SOORYEHAN Giseng Essence 50ml
KRW 85.000
KRW 68,000 (≈ USD61.31 / EUR54.53 )
● Products Description
Essence releases the energy of the skin, gives it a healthy shine, freshness and radiance, softness and hydration.
Contains Ginsenoside33, a steroidal molecule that is found in plants Ginseng, it will cultivate a smoother skin.
It has moisturizing and nutrition effect, stimulates cell regeneration and restoration of the wet film of the skin,
making the skin soft and supple, creates a feeling of relaxation and comfort.
● How to use
After using a toner, take an appropriate amount, spread gently over the entire face blemish.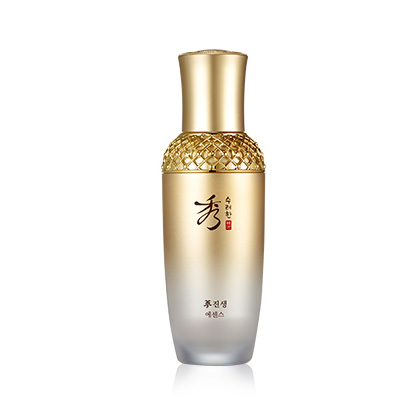 We've collected resources from around the web to help you make your purchasing decisions.
Write
Subject
Rating
Name
Date
Sooryehan Ginseng Essence

01/14/2020

Dear TesterKorea, Thank you so much for selling this product in your website. I love this brand for the first time and honestly it's difficult to find this brand. I choose this essence because it's contained with ginseng and voila this smell is good and make my skin so smooth and moist. Very recommended for everyone who want try skincare with ginseng ingredients.
•1. We ship to worldwide.
•2. Shipping location is SOUTH KOREA.
•3. Our shipping term is generally 3-10 business days after your payment. but it may be longer according to the indicated 'preparation period' of item.
•4. If the parcel's weight is over 1700g, there is no opportunity to select K-Packet as a shipping method since they have weight limitation. DHL, EMS, AIR PARCEL & Rincos will appear as a available shipping method for the weight over 1700g.
•5. The shipping to some countries may be delayed since it take a route via Russia.
(such as Azerbaijan, Armenia, Moldova, Kazakhstan, Kyrgyzstan, Ukraine, Tajikistan, Turkmenistan, Lithuania, Belarus)
In this case it has the different destination country and zip code at the tracking status but the parcel is sent to the correct shipping address. Please don't worry about it.
* You can track your package on our website by yourself.
Tester Korea provides tracking number for all of our orders to ensure the safety of its delivery.
If you need further information, click the 'Shopping' Info link at the bottom the page.
When the parcel is returned to us as "failure delivery", we will inform and give you 2 options whether to get a refund or resend. If we are not in charge for the failure of delivery, the shipping fee is not refundable.
In case of missing parcel, when the claiming of the parcel has been terminated with the result as "missing", we will full refund.